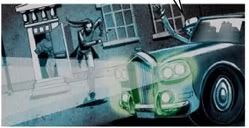 Skulduggery Pleasant's 1954 Bentley R-Type Continental is one of only 208 ever made. The car houses a six-cylinder, 4.5-litre engine, and was retro-fitted by Skulduggery Pleasant with central locking, climate control, satellite navigation and a host of other modern conveniences. Skulduggery often refers to the Bentley as a female.
In the books
The car is damaged quite often, from crashes to falling into chasms, but Skulduggery has stated he has a rather good mechanic who always pieces it back together.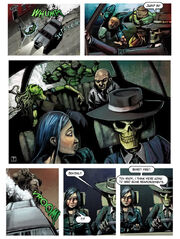 The climax of Skulduggery Pleasant: Dark Days the car is seemingly destroyed when the Sanctuary explodes, but it reappears in one piece during the next book. This proves that the car was repaired afterwards. However, Skulduggery says that if it is damaged once more it will be beyond repair.
Over the course of the books, Skulduggery has spent a significant amount of money on the Bentley's repairs instead of buying a new one, although during its first repair, he made the choice of having spare cars hidden around Ireland, typically brightly colored Ford Fiestas, all given inventive names by Valkyrie, such as The Canary Car, The Purple Menace, and The Orange-Mobile.
After Valkyrie receives a car, The Oompa-Loompa, on her 18th birthday, she still showed a preference to travel with Skulduggery.
Trivia
Skulduggery has a driver's license, and the Bentley is fully taxed and insured. He doesn't want to give the police any excuse to pull him over. [1]
Real Life
References
↑ Derek Landy on Twitter, 23 August 2017.