Adept magic is one of the two base types of magic available to Sorcerers, the other being Elemental magic. Adept mages have dedicated their life and magical potential to a single set of powers, although the scope of these powers might vary.
Description of powers
Powers can range from burrowing underground to having an immunity to fire. Based on the concept of there being no gain without loss, many Adepts have weaknesses that may cause trouble for them. A poignant example is Vindick Leather, who made himself impervious to fire but is killed upon entering a large body of water. Another example is Frightening Jones, who has the ability to fire beams of heat from his eyes but cannot keep a high intensity for long and is also blinded for a short time after he uses them. Not all Adept magic is combat-related, for example Linguistics and Etymology.
Known Adept Abilities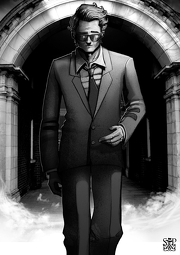 Some powers are technically elemental in nature, but are so narrowly focused that they are counted as Adept:[1]
Some Adept disciplines seem to be the exclusive property of a particular group:
Warlocks: A particularly dark kind of magic, the caster's mouth transforms to enable them to eat the soul of their defeated enemy therefore gaining their strength/power. Warlocks also appear to be able to command light-based magic capable of paralyzing for short periods of time or speeding regeneration and healing of any wounds the warlock acquires.
Necromancy: This magic is one that harnesses the power of death to control and manipulate shadows and darkness. Necromancers put their power in an object, an obvious example being Lord Vile's armour.
Some Adept abilities have only been seen once in the series so far, and little has been revealed about them:
Notable Adepts
For a full list, see Category:Adepts
References
Community content is available under
CC-BY-SA
unless otherwise noted.