"You are not to look the master in the eye."

This article contains spoilers! Please, refrain yourself from reading its content if you haven't read the latest books.

Demon Road is a trilogy of books in Derek Landy's second series. The first book was released on 27th August 2015, following the completion of the Skulduggery Pleasant series. Demon Road refers to the name of the series and the first book, similar to the Skulduggery series.[1] However, the books were released six months apart. The first book was roughly around 121,000 words, the length of Mortal Coil. The series is illustrated by Alan Clarke.
Premise
"The core idea is still the same — it's still about a 16 year old girl who is being chased across America by demons — but it has grown. It has expanded. It has evolved."
— Derek Landy
The series follows a 16 year old girl named Amber who discovers she is a demon and has the ability to transform into an enhanced monster like state. It follows her as she is chased across the US by her parents (who are demons as well. )who want to eat her and then later by a powerful entity known as the Shining Demon.
The Series
Main Books
History
"From the beginning, I wanted these books to be as streamlined as possible — I wanted them short and punchy. Now, I completely failed with Demon Road, as it was a pretty big book, and only got slightly better with Desolation, which is shorter, but it looks like I'm finally getting the hang of this with Book 3, which will hopefully be the perfect length."
— Derek Landy, Derek Landy Blogs Under Duress
During the Theatre of Shadows event, Landy stated that he was one quarter of the way into writing it. He said that the book will have some of the same elements as the Skulduggery Pleasant series but will also have more horror. He also noted that there will be fast-talking characters and it will be for a little older age group.
In an interview with elev8 he said it will be a trilogy about a 16 year old girl who is being chased across America by a pack of Demons.
On the internet, he stated that it wouldn't be set in the same universe as Skulduggery Pleasant (but left it open as to whether it could be an Alternate Dimension as seen in the later books).
In a recent blog post he said he had scrapped what he had written, claiming to have writers block. However, he salvaged half of it and has a deadline of the end of January 2015 to finish the first book.
Derek originally intended for the first book to be around 80,000 words long but it ended up at 120,000. Desolation has around 100,000 words while American Monsters is the perfect length.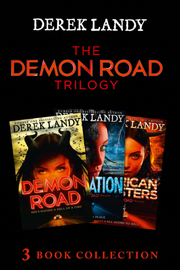 Trilogy
The series was released as a three-book collection in New Zealand.
Trivia
The only time the main Skulduggery books were released six months between each other was when Dark Days was released after The Faceless Ones. Derek Landy began to release the novellas in between each book as he felt sorry for fans having to wait a full year.
Gallery
References
External Links
Community content is available under
CC-BY-SA
unless otherwise noted.