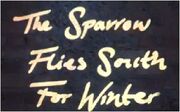 The Sparrow flies South for the Winter was a phrase coined by Skulduggery Pleasant. When Valkyrie Cain was worried about being surprised when Skulduggery Pleasant knocked someone out, Skulduggery devised this catchphrase to warn Valkyrie about when he was going to hit someone. When Valkyrie asked how he was going to fit it into a sentence, Skulduggery replied he could, being very self-confident. This catchphrase first appeared in the 6th book, Death Bringer. Others, including Ghastly Bespoke and Erskine Ravel then began to use the phrase.
The phrase is also used in The Dying of the Light when "Valkyrie" is having Darquesse extracted from her mind, as she needs to hold on to something such as a memory, thought or word. But it turns out to be Darquesse pretending to be Valkyrie and they instead remove Valkyrie. 
Behind the Scenes
After its appearance in the Skulduggery Pleasant Series, many fans began using it, particularly on the internet and at author events.
Ironically, not every species of Sparrow fly South for Winter. The House Sparrow is the only non-migrating species.
Appearances