Trope Kessel
Character Information
Taken Name
Trope Kessel
Species
Human
Gender
Male
Birth
Unknown
Age
Unknown
Death
1959 (50 years before The Faceless Ones)
Magic
Teleporter
Location
Deceased
Trope Kessel is a Teleporter who was killed by Batu fifty years ago before the events of The Faceless Ones.
History
In the past Trope Kessel was interested in the Faceless Ones, and believed that people were, by nature, good, decent and worthy, except for Batu. Kessel researched on how to open the gate to let the Faceless Ones back onto their universe, and told Batu. Wanting to protect his secret, Batu killed Trope Kessel by stabbing him in his back and gave the body to the Sea Hag.
Biography
In the third book, Skulduggery and Valkyrie visit Kessel to ask him questions on the murders of the Teleporters. The pair promise to bury him on land if he helps. They defeat the Sea Hag and Valkyrie removes Kessel from the water, where he dies and becomes a corpse.
Appearances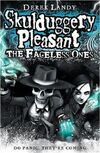 Community content is available under
CC-BY-SA
unless otherwise noted.